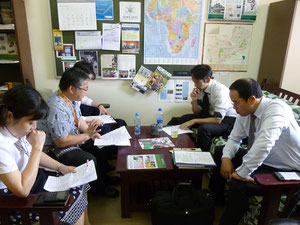 A Senior Specialist from MEXT, Japan, Mr. Shigeki IZUMI, came to Lusaka, Zambia and visited our office.
In the morning, he paid a courtesy call to the Acting Dean, Prof. Bernard HANG'OMBE, the School of Veterinary Medicine, University of Zambia (UNZA), and also made a call to all Hokkaido University-related offices located in the School of Veterinary Medicine at UNZA, namely, Hokudai Center for Zoonosis Control in Zambia, The Project for Visualization of Impact of Chronic/Latent Chemical Hazard and Geo-Ecological Remediation Office, and The Project for Surveillance of Viral Zoonoses in Africa Office. At our office, Mr. IZUMI listened to our results, tasks and requests seriously.
In the afternoon, he participated in our seminar held at David Kaunda National Technical School and even gave a presentation of Study-in-Japan. We appreciate his visit so much and hope that we will make "Study-in-Japan Coordinator Project" successful with his support and continued cooperation!!