The Agricultural and Commercial Show was held at the Show Grounds in Lusaka, Zambia during 2th-7th August 2017. We, Hokkaido University Africa Office in Lusaka, participated at this event on the weekends (5th to 7th) where we made a booth within the University of Zambia (UNZA) space and promoted the study-in-Japan program.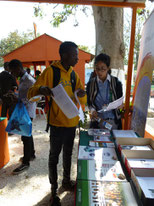 This show, which started in 1919, was organized by the Agricultural and Commercial Show Society of Zambia. The exhibitors included not only those from governmental organizations and companies in Zambia but also from other countries. We found many traders who came to exhibit including some from as far as Ghana and a large number of show goers who enjoyed the show including children.
Among the participants of this event, around 130 people visited our booth and received some information about the study-in-Japan program. We appreciate all the support to our promotion activity from UNZA, especially the International Link Office and UNZA Radio.