We are glad to inform you that we introduced the UNZA Japanese Course Cultural Exchange Event 2017 on 28th August at Confucius Institute in the University of Zambia. This event was organized by the UNZA Japanese Course, and co-organized by the Lecture 'Fieldwork for Asian & Africa Studies' (Department of Liberal Arts, Faculty of Liberal Arts, Hiroshima Jogakuin University) and our office, Hokkaido University Africa Office in Lusaka.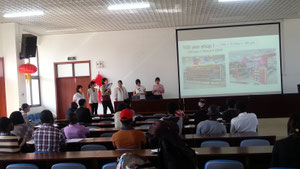 We had a good time together with six female students from Hiroshima Jogakuin University and other Japanese attendants including the Secretary from the Embassy of Japan in Zambia as well as Zambian participants who have an interest in Japan.
After the opening remarks by Dr. Hambaba JIMAIMA, Head of Department of Literature and Languages, School of Humanities & Social Sciences, University of Zambia, the students from Hiroshima Jogakuin had a presentation about Japanese culture especially, urban culture in Hiroshima, one of the most well-known cities in Japan. Their presentation attracted a Zambian audience, who asked many questions and also enjoyed some snacks served by the students.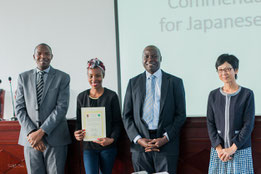 Following this presentation, we had a Japanese speech contest attended by five UNZA Japanese Course students. Their speech performance which included pictures and videos gave the audience a wonderful time. All the speakers were congratulated and given the special bag of Hokkaido University by Dr. JIMAIMA, Dr. Sande NGALANDE, Lecturer who is in charge of the UNZA Japanese Course, and Ms. Keiko NAKAI, one of the Japanese language teachers. The best and second performers received the certificates and key holder as the prize of this first commemorable Japanese speech contest.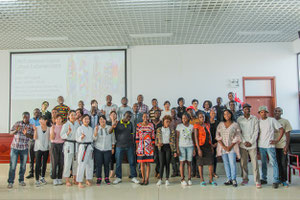 At the end of the event, two students from Hiroshima Jogakuin University showed Japanese martial arts performance, Karate, which excited all the participants. We hope this event did open the door to improve our relationship between Zambia and Japan.