The 5th East Africa Japanese Language Education Conference was held at the Embassy of Japan in Madagascar during 6th–8th September, 2017. Since our office has supported the establishment and management of the University of Zambia (UNZA) Japanese Course, one of our staff, Dr. Midori DAIMON attended this conference with Dr. Sande NGALANDE, Lecturer of the UNZA Japanese Course.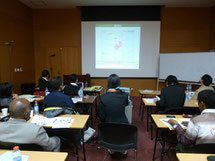 During the conference, we had a wonderful and exciting discussion with several people who study and teach Japanese language in Africa, specifically, Sudan, Ethiopia, Kenya, Tanzania and Madagascar. Among the participants were teachers at university, high school and private lessons, JICA volunteers and students who are expected to teach Japanese language, soon. Some of them were not Japanese but indigenous Africans, whose Japanese proficiency impressed us very much.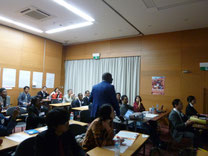 At the three days conference, we held two (2) workshops on how to teach "reading" and how to make our own materials for teaching Japanese language and shared 14 presentations on the challenges and improvements of the Japanese language course and skills in respective countries. Our office staff, Dr. DAIMON presented the possibilities of teaching Japanese language and culture which brings the mind to think seriously about studying in Japan although the UNZA Japanese course does not provide sufficient course content for students to acquire the Japanese language proficiency required to study in Japanese. Dr. NGALANDE had a presentation on the challenges of the UNZA Japanese course and received many comments and advice from the audience. 
At the end of the conference, we had a meeting and discussed how we are going to improve the Japanese language education in Africa. After the conference, a cocktail party was held at the residence of Japanese Ambassador, His Excellency Mr. Ichiro OGASAWARA, who gives a great support to the Japanese language education in Madagascar.
This conference was funded by the Japan Foundation and organized by Japanese Language Teacher's Association in Madagascar. We greatly appreciate their support and the tremendous effort of all the participants. We are confident that the network which we made in this conference will inspire the UNZA Japanese course and result into further improvement.