The 9th International Toxicology Symposium in Africa was held at the Constantial Hotel & Suites, Benin City in Nigeria during 7th-8th September, 2017. Considering the attendance by many scholars from different universities and other institutions in Africa, with good experiences of academic collaboration with Japan, one of the study abroad coordinators from our office, Dr. Noriko NARISAWA attended this symposium to introduce our office and request support to our activities.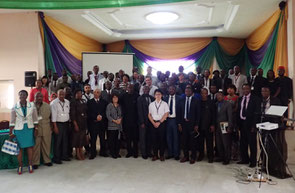 The aim of this symposium was to carry out scientific discussions on the current situation of environmental pollution and other toxicological topics in African countries. The topics in this symposium were based on the biological effects of the environmental pollutants such as DDT, PCB and heavy metals. The presenters at this symposium originated from 15 universities and 4 institutions from 9 African countries as follows: University of Benin (Nigeria), University of Ibadan (Nigeria), University of Lagos (Nigeria), University of Jos (Nigeria), Federal University of Agriculture, Abeokuta (Nigeria), Federal University of Petroleum Resources (Effurun, Nigeria), Kwame Nkrumah University of Science and Technology (Ghana), University of Yaounde I (Cameroon), University of Ngaoundere (Cameroon), University of Gezira (Sudan), Hawassa University (Ethiopia), University of Dar es Salaam (Tanzania), University of Zambia (Zambia), University of Johannesburg (South Africa), Zagazig University (Egypt), Department of Petroleum Resources (The Petroleum Regulatory Agency of Nigeria), Hydrochrom Resources Limited (Nigeria), National Veterinary Research Institute (Vom, Nigeria), Agricultural Research Corporation (Sudan).
At the end of the symposium, Dr. NARISAWA had a presentation to briefly introduce the Coordinator for Study-in-Japan Project. And during the welcome reception before the symposium and the Banquet after the symposium, she had a great opportunity to discuss with professors from Africa on promoting academic and student exchange between their universities and Japanese universities. She also had individual consultations with young scholars from Africa on the prospects of studying in Japan.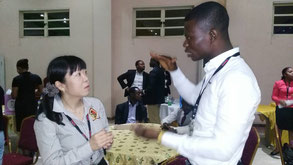 This symposium was jointly hosted by University of Benin in Nigeria and Hokkaido University in Japan, and sponsored by Japan Society for the Promotion of Science (JSPS). We greatly appreciate all the support from the symposium coordinators, Prof. Mayumi ISHIZUKA and Prof. Yoshinori IKENAKA from the Graduate School of Veterinary Medicine, Hokkaido University, and Prof. Lawrence I.N. Ezemonye from the Department of Animal and Environment Biology, University of Benin together with other participants who warmly welcomed our staff to participate in this momentous occasion.