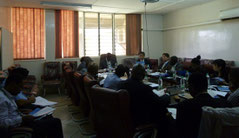 Today, our office, in conjunction with International Link Office, the University of Zambia (UNZA), organized a meeting at the boardroom of School of Engineering, UNZA, for the purpose of introducing Shimizu Corporation, one of the construction companies in Japan, and the company's overseas corporate social responsibility (CSR) activities to UNZA.
The meeting was presided by Prof. Levy SIAMINWE on behalf of the Dean of School of Engineering and was attended by members of staff as follows: 3 from Shimizu Corporation; 11 from School of Engineering; 1 from International Link Office and 2 from our office. After self-introductions, Mr. Masami HIGUCHI, Regional Head for the Turkey Africa &Middle East, Shimizu Corporation, explained one of their CSR activities, Shimizu Open Academy (SAO). SAO is a series of seminars for university students abroad that has been carried out by the corporation since 2012, in order to arouse people's interest in the field of infrastructure development by introducing latest topics such as "Advanced Construction Technologies" based on the experiences in their actual construction business or activities. Currently, Shimizu Corporation is planning to extend this activity to the Africa region, and Zambia is selected as one of their first target countries because of the long history they have had in Zambia.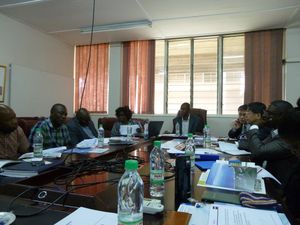 In response to Shimizu Corporation's idea, many expectations and questions came up from staff of School of Engineering. At the end of the meeting, Prof. SIAMINWE told that Vice Chancellor of UNZA also expected this opportunity to contribute to the development of UNZA and the students would definitely benefit from this event. 
We hope the establishment of the relationship between School of Engineering, UNZA, and Shimizu Corporation would bring better future for UNZA and Zambia.