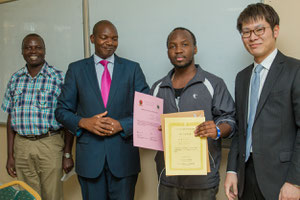 Days are running so fast! Since we had the Japanese Cultural Day in Feb. this year, five months have passed. Today, UNZA Japanese Course 2017 for the term April -July has ended. 10 students of Level 1 and 4 students of Level 2 received certificates from Dr. Hambaba Jimaima, Head of Department of Literature and Languages, School of Humanities & Social Sciences, University of Zambia. This certificate presentation ceremony was observed by Mr. Minami Soma, Secretary from Embassy of Japan in Zambia, who took a keen interest to attend this ceremony despite notifying and inviting him at short notice.
All of students including some former students also enjoyed the event Cultural Seminar which followed the certificate presentation ceremony. Dr. Sande Ngalande, Lecturer of this Japanese Course, Department of Literature and Languages, School of Humanities & Social Sciences, University of Zambia hosted the whole event. 
In the programme, Mr. Johnson Chishimba, Environmental Scientist, Emnka Environmental Services made a presentation, which showed his experiences in Japan during his study at Hokkaido University through HUSTEP (Hokkaido University Short-Term Exchange Programme). Participants were attracted by his talk, especially about speedy train, public bath, and snow-boarding. Ms. Riho Ikeda, Exchange Student from Tokyo University of Foreign Studies had also a presentation about Japanese art of archery. Since she supported our classes of this term seriously, the Japanese course students seemed to be surprised and enjoyed the story about archery as her other side of life. In addition participants joined activities on Chopsticks (Ohashi), and Food Culture (Temakizushi). Their smiles during making Temakizushi and trying to use chopsticks were so impressive, which showed they loved the moment to encounter the diverse but attractive Japanese culture.
This event was supported by Japanese friends to the lecturers, Ms. Keiko Nakai and Ms. Naoko Yokoi. We appreciate their support so much. In the next month, August, we will have another cultural event including Japanese Speech Contest at University of Zambia. Some of the students are preparing their speeches now! We hope to see their beautiful smiles again in the upcoming event.