International Centre
Office of International Affairs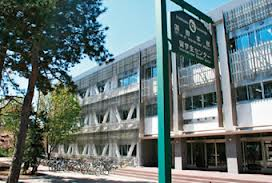 Hokkaido University launched the Office of International Affairs (OIA) in 2010 in an organizational restructuring effort designed to further promote internationalization in education and research. The OIA's goal is to improve the international mobility of faculty members and students, to secure outstanding students and researchers from abroad, and to encourage mobility among Japanese students to overseas institutions.
To realize the University's goal of becoming a "university open to the world," it is essential to create a system that develops world-class human resources that enhance the international mobility of faculty and students, and also develops a structure by which faculties will be afforded ample opportunities to use their educational and research talents in international activities. The OIA serves as a base for the University's various international activities.
Through the OIA's engagement process, Hokkaido University is proactive in our efforts to accept students from abroad. Our goal is to increase the international student population so that it consists 10% of the overall student body by 2015. In recent years, the number of students from Asia has increased significantly, and we plan to continue in our efforts to accept overseas students from not only Asia but also other regions of the world including Africa.  
Contact Information
Division of International Relations
Address: Kita15 Nishi8, Kita-ku, Sapporo, Hokkaido 060-0815, Japan
Tel: +81-11-706-8023
Email: info@oia.hokudai.ac.jp
Division of International Services
Address: Kita15 Nishi8, Kita-ku, Sapporo, Hokkaido 060-0815, Japan
Tel: +81-11-706-8053
Email: ryugaku@oia.hokudai.ac.jp