Partner Institutions
International Exchange Agreements
Hokkaido University has had deep ties with other countries since its foundation, and has consistently promoted academic, social, and cultural exchange to contribute to the development of the international community.
The University has concluded agreements for academic and educational exchange and cooperation with 291 universities and research institutes in 47 countries and regions as of May 2012. 
Conclusion Agreements in Africa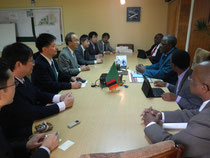 As the above map shows, totally 7 agreements for the academic exchange have been concluded between Hokkaido University and universities in Africa as of May 2012. The universities are in Zambia (2),  Nigeria (2), South Africa, Burkina Faso and Egypt as below.
・University of Zambia *including The School of Veterinary Medicine (Zambia)
・University of Nigeria, Ebonyi State University (Nigeria)
・University of Johannesburg (South Africa)
・International Institute for Water and Environmental Engineering (Burkina Faso)
・Zagazig University (Egypt)