Support Services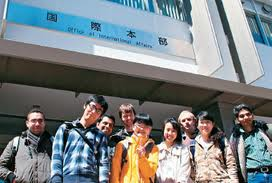 One of the missions of the Office of International Affairs (OIA) is to create a multicultural environment conducive to the personal and professional development for all members of the University community. In order to be consistent with this mission, the OIA strives to provide holistic support to international students, researchers, and faculty.
The OIA specializes in providing the following services:
1. Academic and Language Courses
The International Student Center (ISC) offers Japanese language classes to international students over 9 levels (Introductory 1-4, Intermediate 1-2, and Advanced 1-3) covering six types of units (Grammar, Vocabulary/Kanji, Oral Skills, Reading, Written Expression and Listening Comprehension). Students are free to choose from these according to their needs and class levels are determined on the basis of a placement test as well as on the amount of previous Japanese study.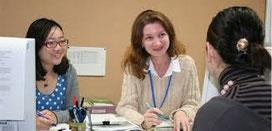 2. Counseling Services
Living abroad can be very stressful. The OIA provides counseling services to international students and scholars. To meet the unique needs of international students, counseling sessions deal with wide ranging issues including psychological, interpersonal and cultural adjustment problems, career and academic concerns and any other difficulties that international students may encounter. Additionally, the OIA provides an orientation for international students immediately after their arrival in Japan that covers what to expect in their daily life and information to help them adjust to Japanese society.
3. Daily Life
For newly arriving international students, Student Supporters help new students get settled, including opening a bank account, moving into a dormitory, filling in registration forms, and obtaining national health insurance. Also, our staff at the Support Desk answer any questions about day-to-day matters. The OIA publishes handbooks for international students and scholars and regularly imparts useful information concerning academic affairs, events and workshops via e-mail. In addition, the OIA manages several international houses and offers a Guarantor System for international students who choose to rent accommodation privately.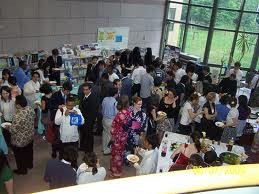 4. Social Activities
The OIA organizes various social and cultural events as an opportunity for international and domestic students to interact with each other. In addition, the OIA maintains solid relationships with various organizations including international student organizations and volunteer organizations that offer a variety of social events and cultural exchange opportunities.
5. Financial Aid
Hokkaido University offers two scholarships for excellent self-supported international students: the President's fellowship and the Special Grant Program for International Students. Additionally, the OIA assists international students in applying for scholarships offered by various institutions and organizations. Short-term loans are also available to international students to cover any unexpected emergencies.
6. Career Support
For those who plan to obtain employment in Japan after graduating, the ISC offers regular Business Japanese courses. The OIA also maintains a strong working alliance with the Career Center in planning career workshops and providing career-related information for international students.